The students and teachers at the elite English girl's boarding school in Cracks appear non-disabled upon first blush, but the movie quickly shows itself to be an exploration of fissures in their respective facades. Aristocratic Spanish girl Fiamma, the daughter of a countess, has recently been exiled to the school by her parents for carrying on with a boy (and a commoner to boot). Upon arrival, she is expected to join the non-competitive dive team headed by the seemingly liberated Miss G, and follow the strict rules of the group of girls who idolize their teacher.
In all areas Fiamma inspires jealousy, but the first sign that Fiamma is destined to be the victim of disability-related bullying comes when she has an asthma attack and pulls out a primitive inhaler. "Have you no courage?" Miss G admonishes her. Fiamma completes her dive, but struggles with her breathing while climbing out of the water. In a show of magnanimity, Miss G lets her take the rest of the day off, exacerbating the jealousy of her fellow students (particularly former favorite Di). Fiamma sensibly tries to avoid diving when it's too cold (cold air being a specific trigger for asthma) or she's feeling unwell, but Miss G and the girls pressure her into it most of the time.
But if Fiamma's hidden disability comes to the attention of her peers occasionally, the flamboyant Miss G's obsessive tendencies and social anxiety is barely detectable. Only Fiamma sees through her lies about her travel adventures, and realizes that Miss G pays her so much unwanted attention because she, even at a young age, has already lived the life Miss G can only wish for. Fiamma points out some of her flaws to Di, who gradually begins to warm up to her.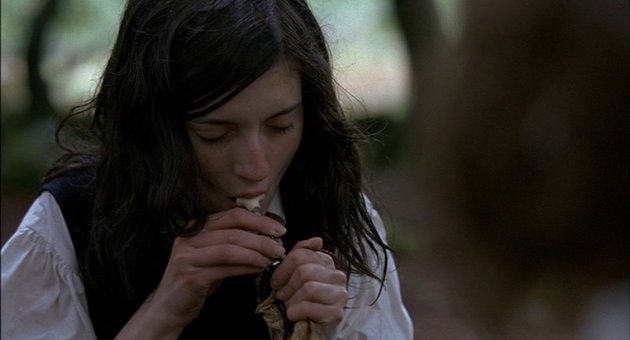 The tension between the two comes to a head when Miss G sexually assaults a drunk and unconscious Fiamma, and then convinces Di and her gang of girls that Fiamma is out to slander her and get her fired. The girls ambush Fiamma, causing a severe asthma attack and sending them running for the nearest responsible adult. Miss G is first on the scene; she cruelly withholds her asthma medication, and calmly watches her die.
Di witnesses Fiamma's death but is too scared to intervene. Later, she convinces the other girls that Miss G is not the person they believed her to be, and Miss G is fired. She retreats to a prison of her own design, too frightened to leave the small town that is the only place she's ever been while Di makes her escape.